Brooklyn Welding was established at the beginning of 2016 with the purchase of a Lincoln mig welder, three used Metabo grinders and a steel door repurposed as a welding table. In our short year, we have grown into a successful design, consultation, and fabrication metal shop serving the east coast.
Our main fabricator, designer and owner: Fernando, started his second career as a welder and fabricator after 13 years working as a teacher for the NYC Department of Education. The rewards of teaching high school in Washington Heights were tremendous, however his lifelong desire was to work with his hands building and creating. Fernando enrolled at the Yestermorrow design/build school in Waitsfield, Vermont and set off on a new path. After completing this intensive program, Fernando went right into working at a large metal shop in Gowanus, Brooklyn, where he gained invaluable experience in metal fabrication and installation. His experience there laid the foundation to succeed as a welder and fabricator, learning first hand the process, from design to installation of a finished product, that no school could ever teach.
After a couple of years of work and learning, Fernando took a leap of faith and started his own business, thus creating Brooklyn Welding and Fabrication Inc.
His recent projects have included: design and fabrication of custom displays for Jack's Stir Brew Coffee; creation of his own line of furniture sold at Woods Grove in Cobble Hill; Brooklyn; working with a local artist to fabricate the metal bases for her textile and weaving creations; a custom commercial build-out for the restaurant, The Guadalupe Inn.
Our Clients
Jack's Stir Brew Coffee
Small City
The Guadalupe Inn
Woods Grove Brooklyn
BILT/DFI
Cardinal Construction
Otway restaurant
Quarter and Glory, Washington D.C.
Shinola Detroit, Miami FL
Parts and Labor design
Museum of Chinese Americans
50 Bowery Hotel
As Is Beer and Bitters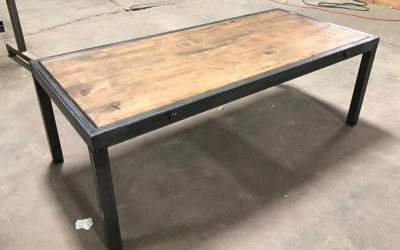 My wife texted me asking if I had any pieces of furniture that I would be willing to donate to a charity auction and as all the pieces I had made were either sold or in stores already, I decided to find the time to make something new. I am fabricating a coffee table...
Brooklyn Welding & Fabrication
116 King St, Brooklyn, NY 11231